Summer Socials 2019

The sun has been shining at the congregation at St John's has been out enjoying a series of family-friendly summer socials and there are still events taking place which you can get involved in.
Upcoming social events
We have a series of trips planned during August. For all of them you can meet in the church car park. Lifts can be arranged for those who would like them. For more details please contact Hannah or call 0113 210 3497.
Sunday 4th August - Canal Walk
We will be walking along the canal from Rodley at 2pm.
Sunday 11th August - Rodley Nature Reserve Walk
We will be walking around the nature reserve at Rodley including a dip in the pond for those who fancy a cool refreshing plunge into the water!
Sunday 18th August - None-Go-Bye Farm Visit
A trip to this family run park in Horsforth with an excellent farm shop, known for its meats. It's a great place for children and those of all ages.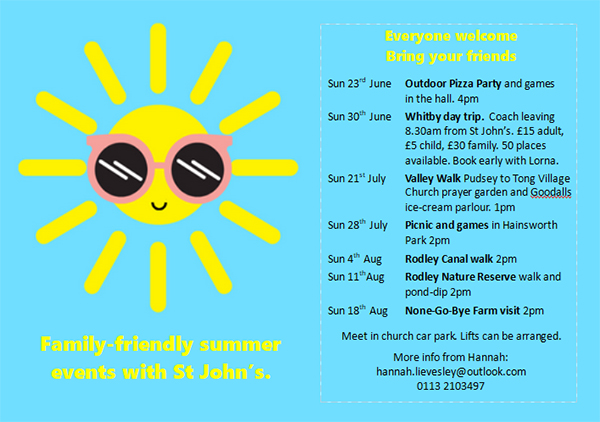 Photos from our recent events
We have already enjoyed several summer socials including an outdoor pizza party, a day trip to Whitby and a valley walk from Pudsey to Tong Village. Here are some of the pictures: